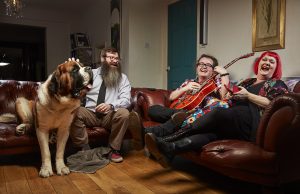 Photo credit: Studio Lambert/Channel 4
Gogglebox star and mum of two awesome boys with additional needs, Georgia McCormick, was our fantastic special conference guest. She spent the day with us, meeting and chatting other parent carers from across Cambridgeshire, and also brought along her lovely Dad, William.
And in conversation with our communications officer Kari Payne, she urged families to "find their tribe" and get the support they need. She applauded the amazing job that parent carers do and said not enough credit was given to their role in looking after their families.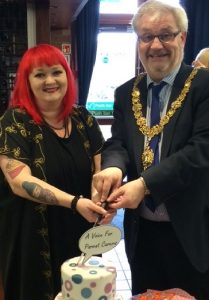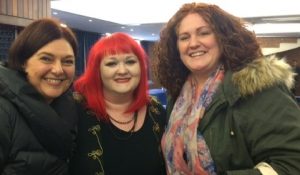 Tell us about yourself and your family Georgia
I'm just an ordinary mum of two children. I have two boys, a husband, two dogs. I'm a parent of two awesome boys, one has Tourette's Syndrome, the other has Autism.  So I face very similar issues to many parents in the audience.
How did you get the Gogglebox gig?
It all came about through a mutual friend – Jess Thom, her alter ego is Touretteshero. She messaged me saying Channel 4 was looking for more diverse families to appear on the programme – we are a little bit bonkers, I suppose.  It's not something we'd have ever considered doing but when the opportunity came about we discussed it with Isaac, our teenager, chatted through all the pros and cons, and left it in his hands.  He said yes so we said we'd give it a go and the next thing we're recording and in front of TV in front of thousands.*  It's lovely but I'm really just an everyday, normal mum, shopping at Tesco, homework, battles – I'm no different from anybody else.
* Gogglebox has around six million viewers and is Channel 4's most popular show.
You decided to take part to raise awareness of Tourette's
Yes, my initial response, was because of Tourette's Syndrome.  People do know about it, but we still don't see people on TV with disabilities as much as we should.  So for us, it was a chance to appear just as any other normal family. We have some disabilities but we are like any other family and it was opportunity to spread a bit more awareness.
Tell us more about your family's journey.  Let's start with Isaac…
Isaac is 16 this year and he went to school as any other day and came home with all these random outbursts, unusual noises, hoops and quirks. Tourette's just came into our house totally uninvited and took us all away.  He was only 12.  It's been one steep learning curve and a quick one.  TS is very obvious.  I wanted people in our village to know about Isaac having TS – but it's spread to millions.  There were safety issues – I wanted everyone to know that this boy walking making noises and ticing did have a disability.
Tourette's wasn't on our radar at all. I expected all the usual childhood issues Isaac did have quite a lot of habits leading up to it but I didn't think for one minute they were tics. He had no other co-morbidities (other associated disorders/conditions such as OCD or ADHD), so it took us totally by surprise.  When he came back from school, he was clicking and making shoulder jerks and I wondered if he was having a stroke, or if he'd taken some substance or other – even though he was only 12.
So I phoned 111, and I think they thought we were barmy – because I was saying what's wrong with my son, he's making strange noises. So we ended up going to casualty and it got worse and worse.  By the time we got to see consultant, he basically spelled it out to us and said go to your GP the next day. We got a diagnosis from a neurologist very quickly, in a couple of weeks – it was a very different situation to my son Archie who has autism.
TS waxes and wanes and sometimes it's just explosive.  He's been off school for a couple of weeks but we'll work through it. We're a strong family with a strong support network of friends.
You've had so much to deal with  – diagnoses for both boys, giving up your career, remortgaging twice, tribunal – how have you coped?
When you are going through it, your focus is just on your children and you know you have to get them the services they deserve – education, assessments etc.  It's a constant battle but it drives you.
For me, Facebook has been amazing – so many parents on there in forums and on various pages. This sounds cheesy but basically it's about finding your tribe of people, finding a couple of parents going through a similar situation. You can just bounce off one another, you've been through it.  Lots of people can't get out of the house, because they have a young child or an adult to look after. Caring can be hugely isolating.  So being able to chat any time online really helps when you are having a tough time.
Do you have any advice for other families?
Find the support groups and people in a similar situation, and learn from their experience. Just reaching out to people, you'll learn about finding different services, who to talk to and maybe some ideas on how to cope or do things differently.
The SEND system is a huge maze … not only are you dealing with a new diagnosis, perhaps, or issues but it's just overwhelming.  Finding people to offload to is hugely important.
If you could change the system, what would you do?
I could change loads.  I think there are systemic issues that lots of parents will understand.  Mostly, listen to parents and their struggles. The system is not always parent-friendly – listen to what we are saying.  We are desperate for support.  We need so many more services.
Tell us about your new Tourette's Support Group at Peterborough
Our nearest support group was a long way away near Oxford. Our group is for all ages, so young people can see adults and see there is life and good things that can still happen – that's important when you're young and going through a difficult time.  You can just be yourself and tic away and no one is going to bat an eyelid. Meeting details
Plans for 2017
Series 9 of Gogglebox starts on Feb 19 and so we'll be starting filming and chaos will resume in our house. When we first started, I was quite naïve and thought it was just a little web cam on the TV and they'd set it up and leave it to us. But it's nothing like that at all.  There's a huge team of people come in with lights and cameras and a list of programmes to watch. It's a big surprise. My husband Scott is usually quite vocal about not liking most things.  He's the engineer-type so he hates anything X-Factor-ish or cheesy programmes that I like!
Can you be yourselves or are you aware people are watching you?
It takes a little bit of getting used to but as time goes on, you do forget they're watching. You relax with it a bit. Although I can't watch myself.  I hate it. I'd need a big drink to do it!
You must get recognised?
If I dyed my hair people would just walk past. But yes, all the time. Everyone has been lovely. People shout at me from across the street and come up and ask for a picture and ask questions. There have been no negative comments, in fact people want to ask about Isaac and TS, so it is opening up avenues and doing what I wanted it to do and I hope that continues.
The show won a National Television Award this week… but you wern't at the swanky awards do?
No, I was sitting at home in my pyjamas eating an oven-baked curry, watching the awards on the telly!
Do you have a favourite show?
I like watching a bit of everything – most things. I'm a big TV fan and a film fan. We all like watching TV together.
You are a self-confessed wine fan too …
I love a glass of wine! But I am doing dry January, although I had a slight relapse last week. But yes, I love a glass just to chill. Wine, chocolate and facebook are pretty much my favourite things. It's not long now until wet February  – my bottles are already lined up!
We're thrilled you're here today to fly the flag for parent carers 
It's a real honour to be here.  Not enough credit is given to you parents and carers sitting in the hall and not forgetting all those at home who can't even make it here today.  I'm passionate about it. Parent carers go above and beyond and we're not recognised for that.
Lastly, you've written a label for our Wish Tree, as have lots of parents in the hall today.  What does yours say? 
"That children with disabilities get a fair chance and a successful education. Equality means Equality."