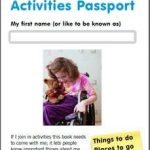 Use it for after school clubs or perhaps a school outing/visit. Share it with  activity providers such as Girlguides, Scouts or family fun days, etc.
You can add information such as:
our child's likes and dislikes
their medication
what to do in an emergency.
With the passport you don't have to repeat information every time your child goes to an event (you may be asked for additional information from the activity provider i.e. permission to take photos). The Passport is for families with a child/young person up to age 25.
You are entitled to a Passport if your child/young person is enrolled on the SCIP Database and has a disability or additional needs.
If you have any questions please contact the SCIP Co-ordinator Joan Adamson.
T: 01480 379827