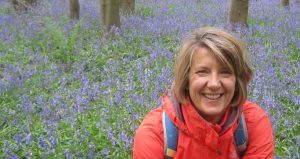 It's last day with Pinpoint today for CEO Lenja Bell.
Over her nine years with us, Lenja has worked with so many  parents, colleagues and partners from Cambridgeshire and beyond,  helping to strengthen the voice of parent carers in the county and improve services for children and young people with additional needs and disabilities.
Here's her goodbye message to you all…
"Nine years ago Lynn Powell, the founder of Pinpoint, asked me if I would facilitate parent network meetings for Cambridge and South Cambs. I decided to take on the challenge and never looked back.
"I was impressed with what Pinpoint was trying to achieve – bringing together parents, service providers and commissioners to provide information for parents and make services better.  This was a new concept in 2008 and still a very valid one today.
"The work never stops – there are always new services, restructures and new issues.  But the voice of parents has grown considerably since 2008 and with it the role of Pinpoint.
"It's been very exciting to be part of this progress but there's still much more to do. I step down as CEO with both sadness and expectation.  I am sad to say good-bye to so many amazing people from the staff team, to the trustees, volunteers, partners, and all the wonderful parents.  However, I know Pinpoint is in good hands and I look forward to hearing about its progress.  I have really enjoyed all my years at Pinpoint and feel grateful to everyone who helped us along the way."
Like to say goodbye in person?
Lenja is planning to attend Pinpoint's AGM on November 8, at 1.30 pm at the Orchard Park Community Centre, Cambridge.  If you'd like to join us, please register online.