Children's Centre Services in Cambridgeshire – closes September 22 2017
The county council is planning a redesign of children's centre services and has asked for parent carers' help to shape the future of Children Centre Services and how to support families locally.
It has launched a consultation document outlining the plans as well as an online survey and wants to hear feedback from families on the proposals.
Link to the document and online survey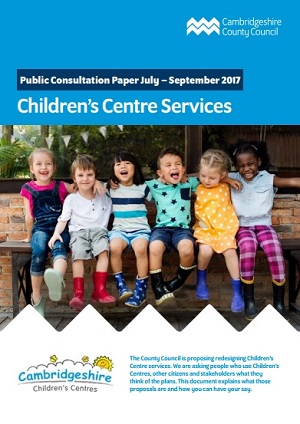 Come along to a consultation drop-in
Children are welcome at all of the drop-in events, Children's Centres will have toys and staff available at these events. Children's Centre staff are also able to discuss the consultation and will have paper copies available at all of their usual Children's Centre activities.
| | | |
| --- | --- | --- |
| 23-Aug-17 | 1-3pm | Oasis Children's Centre, St Michael's Avenue, Wisbech, PE13 3NR |
| 24-Aug-17 | 4-6pm | Cambridge Professional Development Centre, Foster Rd, Cambridge, CB2 9NL |
| 30-Aug-17 | 2-4pm | Murrow CC, Murrow Bank, Murrow, Wisbech, PE13 4HD |
| 05-Sep-17 | 5-7pm | Sutton CC, The Brook, Sutton, CB6 2QQ |
| 06-Sep-17 | 12-2pm | Farcet Children's Centre, 36 St Marys St, Farcet, Peterborough PE7 3AR |
| 06-Sep-17 | 3.30-5.30pm | Godmanchester Children's Centre, Godmanchester Primary School Park Lane, Godmanchester, Huntingdon, PE29 2AG |
| 06-Sep-17 | 5-7pm | Bar Hill CC, Bar Hill Community Primary School, Gladeside, Bar Hill CB23 8DY |
| 11-Sep-17 | 5-7pm | Linton CC, Cathodeon Centre Linton, Cambridge, CB21 4JT |
| 11-Sep-17 | 5-7pm | Bottisham CC, Lode Road, Bottisham, Cambridge, CB25 9DL |
| 12-Sep-17 | 4-6pm | Ramsey Library, 25 Great Whyte, Ramsey PE26 1HG |
| 12-Sep-17 | 5-7pm | Histon Children's Centre, New School Rd, Histon, Cambridge CB24 9LL |
| 13-Sep-17 | 6.30-8pm | Papworth CC, Varrier Jones Drive, Papworth Everard, Cambridge, CB23 3XQ |
| 14-Sep-17 | 5-7pm | Bassingbourn Children's Centre, Brook Rd, Bassingbourn, Royston SG8 5NP |