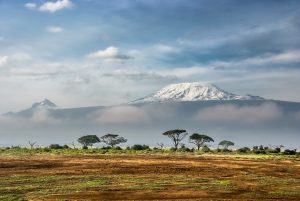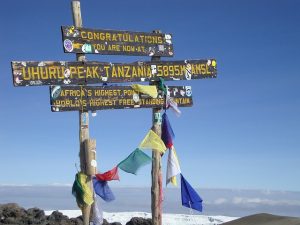 Lenja Bell, our former CEO, is preparing for a personal challenge and nine-day fund-raising climb to the summit of Kilimanjaro – Africa's highest mountain – to raise money for Pinpoint.
On January 24, Lenja will be flying out to Tanzania with three friends to raise money for their chosen charities. They aim to reach the top on February 2 – the day after our 2018 conference.
Planning the adventure began 18 months ago and has included serious training in the Alps, the Peak District and Wales. With less than eight weeks to go now, it's all becoming very real and a few nerves are beginning to set in.
"We've all put a lot of time and our own savings into the climb and have been training hard for it," said Lenja.
"Now, we just need to stay fit out there, adjust to the altitude … and the cold. We can't control the temperatures or how we react to the change in altitude. But we are four determined ladies — all over 50.  It's a trip of a lifetime and we really want to challenge ourselves and also support the charities close to our hearts."
With heavyweight thermals, puffer jackets, balaclavas and mitts sourced and malaria tablets and tyhpoid shots organised, the intrepid quartet are raring to go.  Money raised will go to Pinpoint, Riding for the Disabled Association, Alzheimer's Society and the Society for Mucopolysaccharide Diseases.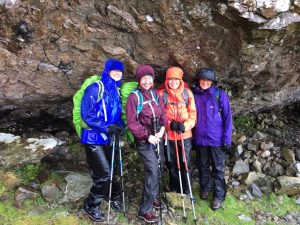 Kilimanjaro's iconic summit – Uhuru Peak – is 5895m (19,341 feet) high. Lenja and her friends – Chris, Frances and Cathie – will trek for nine days, tackling the ascent on day eight – leaving at midnight and aiming to reach the top at sunrise around 6am.
"By trekking for longer, 4-7 hours a day, we hope to aclimatise better and avoid altitude sickness," she explained.
Lenja has set a £1,000 target fundraising target for Pinpoint.  If you are able to sponsor her climb – and any donation is hugely appreciated – you can visit her fundraising page on BT MyDonate
All money raised will go towards our annual conference – to keep it free to Cambridgeshire parent carers.