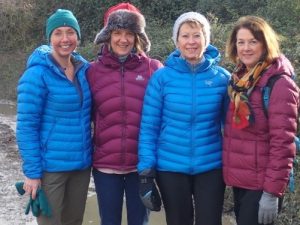 Our former CEO Lenja Bell has raised £1,500 for Pinpoint – scaling Mount Kilimanjaro, Africa's highest peak.
The climb was made in phases, over nine days, to help keep altitude sickness at bay.
Lenja reached the summit (5300m) on the morning of our annual conference, at sunrise on Thursday February 1,  achieving a personal goal and a magnificent fundraising total for our charity.
She made the trip to Tanzania with three friends, Chris, Frances and Cathie, all raising money for individual favourite charities. Planning the adventure began 18 months ago and has included serious training in the Alps, the Peak District and Wales. With less than eight weeks to go now, it's all becoming very real and a few nerves are beginning to set in.