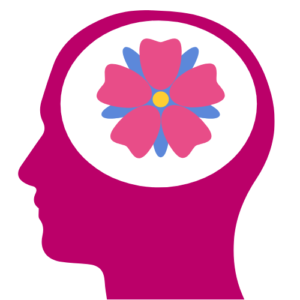 Barnado's has a newly developed support hub with a whole host of information
Emotional Health and Wellbeing Service have dedicated helplines to advise and support parent carers and young people:
Young People:
Chathealth: Text Messaging Service for 11-19 year olds
ChatHealth is an alternative way for young people to engage with experienced clinicians who will answer texts from 9.30am-4pm Mon-Fri on a range of topics including anything from healthy eating, smoking, self-harm and bullying. Watch this video to find out more. Young people (11-19 years) can text 07480 635 443 to start a conversation.
Parents:
Cambridge Community Services (CCS) Duty Telephone Line: 0300 329 50 50. Please note that this line is a contact point for all CCS services (except for Specialist Community Nurses) and is staffed by our wonderful Administration Team. When you call, please make them aware of why you are contacting us and they will pass your request of support on to the relevant team who will then get in touch with you.
They are also in the process of creating emotional health and wellbeing resources for parent's wellbeing as well as children and young people and will share these with you when they are ready. In the meantime there are a number of useful service and resources on the Keep-Your-Head website for Adult, Child & Young People and Professional's Mental Wellbeing: https://www.keep-your-head.com/
iCASH have adapted their integrated Contraception and Sexual Health services in line with national guidance on essential services.
For information for you to help you explain coronavirus to your children click here.
CHUMS have changed their services to be available for parent carers by phone.
Dhiverse have adapted their services and are still open to questions via email: enquiries@dhiverse.org.uk. They will be bringing online services soon too.
Advice from Anna Freud Centre for children and young adults.
Every Mind Matters website from the NHS offers tips to cope with anxiety about coming out of lockdown here and advice about staying at home here.
Mind have some great advice on looking after our wellbeing.
Rethink also have information on supporting our mental health.
Bimblings write here about coping with being at home without our usual routines.
Family Lives (previously Parentline)
Call: 0808 800 2222
Family Lives offers a confidential and free helpline service for families in England and Wales (previously known as Parentline). for emotional support, information, advice and guidance on any aspect of parenting and family life. The helpline service is open 9am – 9pm, Monday to Friday and 10am – 3pm Saturday and Sunday.
Single Parent Helpline: 0808 802 0925
One Parent Families/Gingerbread is the leading national charity working to help lone parents and their children.
Call: 0300 123 7015
Grandparents Plus is the only national charity (England and Wales) dedicated to supporting kinship carers – grandparents and other relatives raising children who aren't able to live with their parents.
You'll find mental health helplines here.
For mental health crisis information, click here.
If you need help in a mental health crisis, please call 111 option 2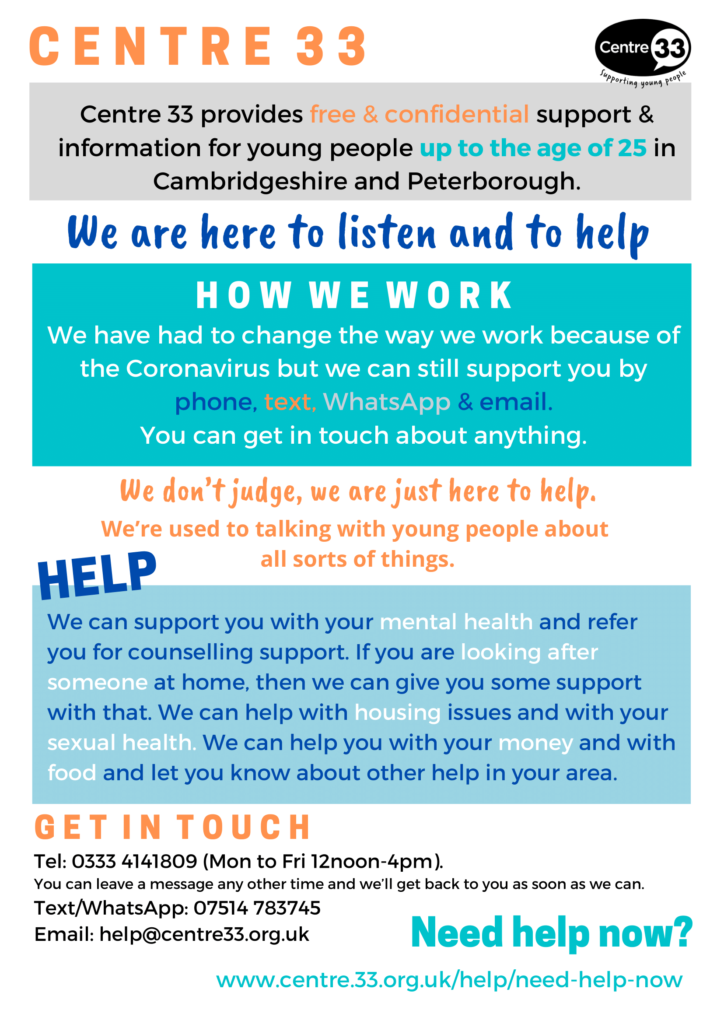 The Cogwheel Trust has set up a remote counselling service although the waiting list is currently closed but will re-open in coming weeks. Clients who would like to be assessed online (or face-toface once safe) can email admin@cogwheel.org.uk Their name will be added to a list and they will be emailed when Cogwheel are able to take their referral.
Everyone Health health trainers are working from home but still accepting new referrals. They are offering telephone appointments to ensure continuity until we can get back to normal. They are keeping in contact with all of their service users and sign posting them to other support should they need it. Their phone service is still running in Cambridge on Mondays and Tuesday. Support is available to anyone with a mental health condition who wants help staying healthy during these difficult times. Individuals can book on as normal through the Clinical Contact
CamQuit Stop Smoking are running as they usually would except everything is over the phone. They have about 30 clinics running across the week at various times/days and anyone can book into any clinic by calling the contact centre, emailing us at eh.camquit@nhs.net or self-referring via our website
Group Therapy Centre T. 01223 357221 Offering support via online groups
Lifecraft (Cambs and Peterborough) Lifeline Mental Health helpline has extended hours of support by 5 hours, now 2pm-11pm. Freephone: 0808 808 2121
Samaritans – Call 116 123
National Domestic abuse support – Refuge (16 +) – 0800 2000247
Men's Advice Line – 0808 8010327
LGBT support – 0800 9995428
Headroom from the BBC is a dedicated online resource that recognises the impact the pandemic is having on everyone's mental health; a toolkit for the mind to help people look after themselves with practical everyday tips, inspiring personal stories, activities and music mixes to boost your mood, escape and relax.