Pinpoint's Preparing for Adulthood group talked motivation this month – helped by guest speaker Sarah Stones from Plain Sailing Motivation.
According to Sarah, motivation creates energy … and fuels our drive to move forward.
When we are motivated we:
learn better
think faster
find creative solutions
solve problems
Identifying the different motivators that make your son or daughter tick is the key to engaging them, supporting them… and helping them shine.
She told our group that everyone has a combination of intrinsic motivators – some more powerful than others – which will change through life.  These include:
wanting security, safety and stability
being an expert or specialist
the desire to innovate and create
a drive to earn money and material satisfaction
Sarah also urged parents to use positive language with their young people, focus on what's been good – and to smile.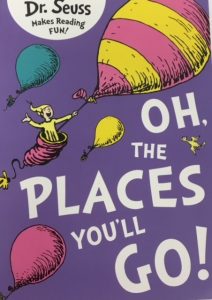 She also brought along a selection of books for inspiration… including Dr Seuss' Oh, The Places You'll Go.  It's full of life lessons … good for children, young people and parents too. It's available through Cambridgeshire libraries.  Search and reserve a copy online