Creating a passport-style document for your child can be really useful for healthcare and hospital appointments as well as after school activities or emergencies.
You can download a template and then personalise it with important information about your child or young person.  It's helpful for hospital staff, dentists, PAs and other people working with your son or daughter, and can include communication needs, support needs, medication, as well as things that are important to your child, their likes and dislikes.
Hospital or Healthcare Passport
Pinpoint worked with parents and Addenbrooke's Hospital to create an Additional Needs passport for children and young people attending the hospital. There are child and adult versions.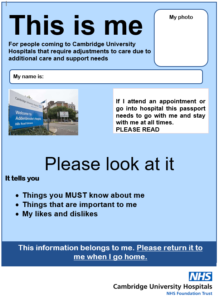 We also have a general healthcare passport template.  Use it at hospitals, clinic visits or GP appointments. Or keep a spare for holidays or one in the car glovebox in case of emergency.
Mencap and NHS England created a short emergency version for the COVID-19 outbreak to enable healthcare professionals to know immediately about your child's needs.
Our parents say …
"My son had to have an operation at Addenbrooke's hospital.  He is on the autistic spectrum, so I prepared a hospital passport before our visit. The ward staff recognised the passport, welcomed it and read it and used it help prepare my son for what was going to happen. They noted from the passport what sort of toys he likes and brought these for him to play with while he was waiting.  All of the ward staff were helpful, they all took time with him, making sure that he was happy with everything that happened.
This could have been an extremely negative experience for my son, because of waiting, not knowing what would happen or when, being operated on and feeling poorly.  However, the hospital passport helped us to have a positive experience because my son was told what would happen, was entertained while he waited and  was given as much help as possible to feel better after the operation."