Continence Services Cambridgeshire
Children's continence service and products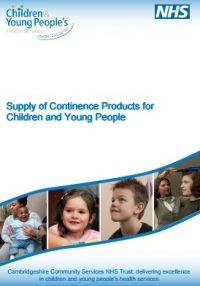 Details about the paediatric continence service for children aged 4-19 and how to make a referral can be found here.  For those over 18 years the adults service can assist.  For those needing help with nappies, pads and other products can contact the Continence Service. 
We have produced a Continence / toileting Handy Guide
Read about autism and continence
As well as accessing continence products through the Continence Service, we are aware that there are specialist providers who have useful offers – Fledglings offers a wide range of products including swimsuits and swimming trunks for children and young adults, for example.
The Bladder and Bowel Community offer useful advice, support and practical help, including the free 'Just Can't Wait' cards for those who need the toilet with little warning.
Radar keys can be purchased from a number of sources to use for public toilets that need a key to unlock them.  You could try this website but there are others.
For those who are doing extra washing to deal with bladder and bowel issues, don't forget that Disability Living Allowance is there to help cover these type of additional costs from bringing up a SEND child or young person.  Family Fund can also help low income families with grants to help for things like washing machines, as well as other support.
Continence Action Group
Pinpoint has worked with parents, service providers and commissioners to improve the service for children with continence issues. A Continence Action Group was formed to jointly work towards service improvements.  As a result, from April 2015 the budget for a continence service for children and young people was separated from the adult budget in order to provide a more child-centred service.
Pinpoint is involved in monitoring this new service. If you would like to find out more or feedback about the service, contact Sarah Conboy . Telephone 01480 877333 or email sarah@pinpoint-cambs.org.uk
Campaigning for a better service
When Bianca Cotterill was told there were no supplies of breathable nappies for her growing, disabled daughter, she found it unbelievable.
"Holly had outgrown her nappies and all I wanted was the same thing but larger. But the school nurse said 'no, it's not possible', the only kind available were plastic-backed ones, which were not suitable because Holly has heat-related seizures.
"As an exhausted parent, you might be defeated by a can't do attitude like this and if you are caring for a child with disabilities, you often don't have the time or energy to battle on.  So you have to let go or just accept things that irritate you.
"But I just found this nappy situation ridiculous. It was an essential for my daughter and for lots of other families too.  I was determined not be fobbed off with something that wasn't right. With Pinpoint behind me, I felt it wasn't the same mountain to climb so I just kept phoning and challenging.
"It took months and months of me badgering suppliers, deliverers and the continence service but in the end I got what we needed."
Bianca's battle helped forge Pinpoint's Continence Action Group – above –  which brings together parents and users of the Cambridgeshire continence service with the managers who buy and provide the service.
Bianca, a long-time volunteer for us, is a former Pinpoint Trustee.
Useful Contacts
ERIC  (Education and Resources for Improving Childhood Continence). ERIC is a national charity dedicated to the bowel and bladder health of all children and teenagers in the UK. It  provides information and support to children, their families and the professionals who treat them. Helpline* 0845 370 8008 Monday to Thursday 10am–2pm or email: helpline@eric.org.uk. *Calls to the helpline cost 9.6p per minute, plus the phone company's access charge.
Bladder and Bowel UK (formerly PromoCon) Bladder and bowel problems in childhood and young people Bladder and Bowel UK offers advice and information on all bladder and bowel issues in children and young people, including those with additional needs.  Helpline 0161 607 8219
Fledglings , a local charity, have a wide range of continence products, from pads to swimwear.