Advocacy services in Cambridgeshire
An advocate can help you or your young person be heard. And in Cambridgeshire & Peterborough, the advocacy service is called Total Voice.
Cambridgeshire County Council and Peterborough City Council have brought together all advocacy services for adults, carers, children and young people into one single contract. It's a partnership of specialist advocacy organisations: VoiceAbility, Cambridgeshire Deaf Association and NYAS (the National Youth Advocacy Service).
The service is free, impartial and confidential and aims to: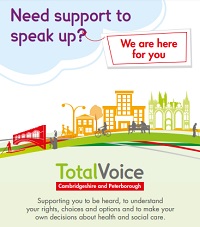 Support you to be heard
Help you understand your rights, choices and options
Enable you to make your own decisions about healthand social care
Get support from the people around you in your community
Give the people around you the skills to support you
Give you the tools to do as much as you can for yourself
The service supports adults, carers and Children and Young People Looked After or In Need and people with:
Physical disabilities
Learning disabilities
Autism
Mental ill-health
Sensory impairments
Social or health care needs
NHS Health complaints
Visit the Voiceability webpage about Cambridgeshire advocacy services
Meet the National Youth Advocacy Service Team for Cambridgeshire
Helpful videos about advocacy
Advocacy explained for young children