Eddie's Befriending Scheme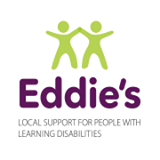 Eddie's is a Cambridgeshire charity supporting people with learning disabilities.
It used to be part of Cambridgeshire Mencap and has been offering community services for over 10 years, providing a wide range of services for children, young people and adults with learning disabilities, and their families and carers.
People aren't matched on a first come first served bases, it very much depends on the interests, personality, location and age of volunteers and young people. Someone who is referred to us may be matched immediately, or it could take much longer to find someone suitable.  Those on the waiting list can attend Eddie's Befriending Works group in Waterbeach, which meets monthly. This group take part in games, art activities, karaoke and more.
There is also an adult befriending scheme which currently supports adults in the Edmund Trust's supported living accommodation.  The Edmund Trust is the sister charity to Eddie's and provides residential care, supported living accommodation and respite and domiciliary care in the community.
Generally, volunteers will visit their befriendees twice a month for two hours at a time, although this can vary from once a week to once a month.  After applying to be a volunteer, applicants are interviewed and, once accepted onto the volunteer training scheme, they are required to complete four courses covering Volunteering; Learning Disability Awareness, Autism Awareness, and Safe Guarding.
Once matched, the befriender and befriendee can go and enjoy themselves in the community doing things that the befriendee wants to do – bowling, going to the cinema, cycling, walking,  or shopping. Alternatively befriendees may like to stay at home to enjoy artwork, or computer games.
Contacts for Eddie's befriending scheme
Families can self refer, or be referred by social services or by any other professional agency.
To self refer, email:vicky.baddeley@eddies.org.uk, or call 01223 883142.