Pinpoint Volunteer Mark Stocks

"I volunteer for Pinpoint because of the support and help they gave me when my son was going through a hard time with his mental health and self-harming-  and I decided to give something back.
"I help out where I can. Everyone understands how stressful things can be at times, so it's very flexible.
"One thing I learnt very quickly with Pinpoint is that parents who are going through a hard time with their children, mental health and self-harming issues often just need someone to listen to them without being judged.
"Isolation is a really  big issue when your child is for example having a melt-down, self-harming.  How do you approach that subject with friends?
"To come into a safe environment to talk about your feelings and to understand that they're natural feelings was a great help to me.  And now, with the Listen support group  I run at Huntingdon, with support from Pinpoint, I want to help other families in a similar situation."
…………………………………………………………………………………………………………………..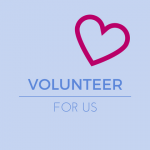 Read more about our volunteering training and roles
Or contact Pinpoint's volunteer co-ordinator Carole Darlow. Email carole@pinpoint-cambs.org.uk or call the office on 01480 877333.