Cambridgeshire SENDIASS (Special Educational Needs and Disabilities Information , Advice and Support Service)
For help in schools with mediation and knowing what your rights are and what schools should be doing to support your child.
Part of the Cambridgeshire County Council website that is dedicated to additional needs and disabilities. There is information about schools, social care and health services that will be relevant to
your family.
Did you know that if you are doing above and beyond what a parent would do for a 'Normal' child so you are classed as a carer. You can ignore the title but use it to get the support you need.
You can find information about young carers siblings groups.
Cambridgeshire Parent/Carer SEN Support Group page – a closed group that you can post on for advice on every aspect of parenting.
National Autistic Society's Parent to Parent Service –  0808 800 4106, at any time, day or night
Parent to Parent is a UK-wide confidential emotional support service, provided over the phone by trained volunteers, who are all parents of autistic children and adults. The volunteers are based across the whole of the UK, which means that there is increased anonymity for parents who may not want to share information with someone in their local area. 
The volunteers all have personal experience of autism and the impact it has on their own families. They are there to give parents and carers the opportunity to talk through any issues, feelings or problems they're experiencing. They can suggest helpful strategies, signpost them to other sources of information and support, or just provide a non-judgmental listening ear.
Parents and carers can call Parent to Parent on 0808 800 4106, at any time, day or night, and leave a message on our 24-hour answerphone. Please be aware that they will not speak to someone immediately as this is not a manned line. If they leave a message, a volunteer will call them back as soon as possible at a time which suits them.  Link to more details on the parent to parent service 
Other helplines for parents
Mencap Direct
Mencap Direct is a free help and advice line offering advice and support for people with a learning disability, and their families and carers. You can call about lots of different things  – from advocacy and benefits to housing, jobs and relationships. Its team can offer advice, information and discuss what support Mencap can offer tailored to your needs, in your area.
T: 0808 808 1111 open 9am to 5:30pm, Monday to Friday
Email: helpline@mencap.org.uk
Contact
Formerly known as Contact A Family, this UK charity supports families with disabled children. It advises thousands of families every year on topics ranging from benefits to education, support links and information on day-to-day-living. It has a big resources section on medical conditions and lots of factsheets for parent carers.
T: 0808 808 3555 open 9.30am-5pm, Monday-Friday – it's free from UK landlines and UK mobiles.
Email helpline@contact.org.uk 
Citizens Advice Rural Cambs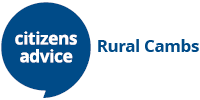 10  good organisations to know …