Cambridgeshire Local Offer
The "Local Offer" is Cambridgeshire County Council's published overview of how children and young people aged 0 – 25 who have special educational needs and disabilities (SEND) are supported.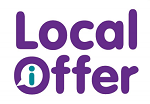 Following the Children and Families Act, which came into effect in September 2014, all local authorities across the UK must publish health, education and social care services and support information for SEND children and young people.  This must include eligibility criteria.
Once published, authorities must review the Offer regularly and consult with families and young people during the update process
Where to find the Local Offer
The Cambridgeshire Local Offer is published on the Cambridgeshire County Council website.
Read About Cambridgeshire's Local Offer including the Annual Report.
What's in it for your family?
Take a look at the Cambridgeshire Local Offer to find out about:
early years providers
specialist services
childcare and funding, health services and support, schools and transport.
how early years providers, schools and colleges identify and support children with SEND
specialist services that support children and young people with SEND
childcare and funding
health services and support
Education, Health and Care assessments and plans and personal budgets
school and college transport
schools and college funding for children and young people with SEND
SEND Specialist Services
Find out more about these services in Cambridgeshire, which include:
Educational psychologists
Specialist teachers
Specialist practitioners
The Sensory Team
SEND Information Reports on your children's schools websites
Your child's school must have it's own "offer" called a SEN Information Report and must publish it on their websites. Have you read it?
It is a legal requirement for schools to publish information about their provision for Special Educational Needs and Disabilities (SEND)  – and keep it up-to-date. It should link to the Cambridgeshire Local Offer.
What do YOU think of the Cambridgeshire Local Offer information?
The new SEND legislation means children, young people and parent carers must be involved in developing their Local Offer. Furthermore, the council must respond to this feedback and consider it when commissioning services.
Help improve the Local Offer information for other families
All Cambridgeshire parent carers are invited to get involved and give their views on the information published in the Local Offer. If you'd like to help shape content or have ideas on how to present it, please get in touch.
Read more about getting involved in developing the Local Offer, on the county council website.