Disability, accessible and inclusive sport Cambridgeshire
The county has lots to offer children and young people who want to be active and try different sports.
Local clubs offer regular sessions, there are holiday activities and term-time groups. Take a look at variety of opportunities on offer. The Cambridgeshire Local Offer also lists leisure activities for children and young people with additional needs and disabilities. There are guides for Cambridge, Fenland and Huntingdonshire.
Your local district council may run disability sport sessions – you can visit:
Accessible hockey sessions running in Cambridge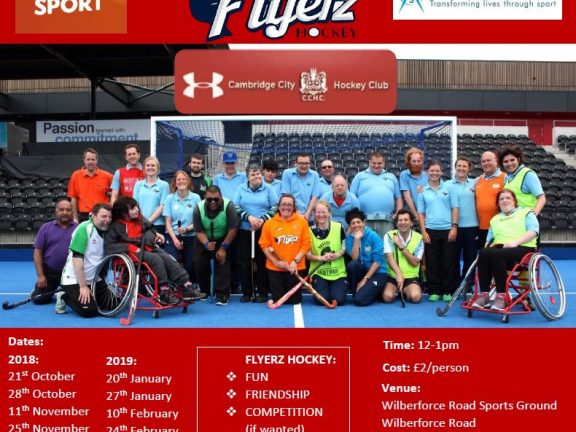 Cambridge City Hockey Club is running Flyerz Hockey Sunday sessions over the 2018-19 season.
Sessions are open to all ages and can cater for all disabilities, they are run by qualified coaches with the help of club members to assist with those who may need extra help.
Sessions run 12-1pm at Wilberforce Road Sports Ground in Cambridge CB3 0EQ offer fun and friendship – as well as competition (if you want it!)
Contact Louise Barker Flyerz Hockey Co-Ordinator and Coach at Cambridge City Hockey Club
cchcflyerz@gmail.com
Community sport programmes
Cambridge charity Power 2 Inspire runs community inclusive weekly sport programme in Huntingdon, Ely and March. 
In partnership with Cambridgeshire County Council and Sport England, this programme of inclusive sport includes boccia, new age kurling, sitting volleyball, table cricket, goalball and polybat.
Sessions are open to all, free of charge, in an inclusive, friendly and relaxed environment. Sessions start in January 2018, in community venues.
The Huntingdon session is being delivered at Huntingdon Tesco, on Tuesday mornings from 9th January 9 to March 24 2018.
The Ely session at the Larkfield Community Centre and will run on Wednesday mornings from January 9.
The March session is at March Library on a Wednesday evening from 24th January.
For more information see the posters for each location…
NEW: Bootchamps for young people and adults with Down's Syndrome
Fun, sporting activities are running on Mondays, from September 25, from 5-6pm at Meadows Community Centre, Cambridge CB4 3XJ, aimed at young people and adults (aged 12 and upwards).
the first three sessions are free to attend – £3 per session after that.
Bootchamps is being run by Cambridge City Council in partnership with Better Leisure and offer fun, weekly sessions designed to improve health, develop physical (agility, balance and coordination), build confidence, develop social skills and encourage communication skills.
Parent carers are encouraged to get involved when needed to help participants with their understanding to enable them to get the most from their sessions. Fun sports games will teach numbers, letters and colour recognition.
The sessions will cater for all levels of participants and aim to offer a positive learning environment where participation is valued and the main emphasis will be on having fun.
Information:  please email Danielle.Guy@cambridge.gov.uk
Try more activities - Living Sport's sports club database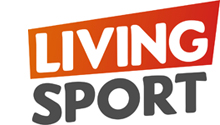 Local charity Living Sport has kindly shared its database of disability sports clubs in Cambridgeshire and Peterborough- everything from archery to goalball, wake-boarding to trampolining – to encourage more people into sport.
So take a look at this interactive map which lists disability sports clubs across Cambridgeshire by district and has contact details ready for you to find out more.  View map
Living Sport is a local charity dedicated to improving the health and well-being of the people of Cambridgeshire and Peterborough through participation in sport and physical activity.
Inspire Peterborough fitness suite for people with disabilities
Accessible, fun and affordable exercise and fitness sessions for people with disabilities or long term health conditions are promised with a new fitness suite, at Inspire Peterborough.
The Fitness Suite is not a public gym and is a collaboration between the Mobility Aids Centre in South Street, Stanground and Inspire Peterborough. Inspire Peterborough has also teamed up with the Armed Forces Partnership Board to deliver exercise, fitness and well-being sessions to ex-forces personnel with disabilities.
All sessions are available to family members and carers.
To find out more contact Ebun Bola-Shadipe by emailing  ebun@inspirepeterborough.com